Brinore Tramroad
An early 19th Century horse-drawn railway
Brinore, Bryn Oer or Brynoer Tramroad?
Brinore is an Anglicisation of the Welsh Bryn Oer (or Brynoer), meaning "Cold Hill". Such practice was adopted by incoming industrialists at the time the Tramroad was built. The Tramroad owner was legally known as the Brinore Tramroad Company, so we have retained the original spelling for the Tramroad itself.
Tramroads are sometimes known as tram roads, tramways, dramways or dramroads!

The Brinore Tramroad runs for 8 miles (13 km) from Talybont-on-Usk to Trefil, within the Brecon Beacons National Park in Wales. It was operational between 1815 and 1865 and linked the Tredegar iron works and Trefil limestone quarries to the Monmouth & Brecon canal at Talybont. Its route passes through the dramatic and scenic valleys of Talybont and Dyffryn Crawnon before reaching the uplands of Trefil mountain.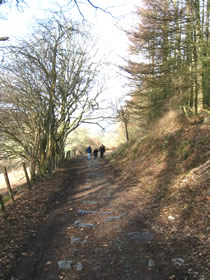 The Tramroad carried a variety of materials, primarily coal from the Rhymney Valley into mid-Wales, and limestone from the southern quarries for agricultural improvement.
Its importance today is not only as an example of industrial archæology but also as a well used public right of way (bridleway status). Its hedgerows form a valuable wildlife corridor and it is frequently used by walking groups and lovers of the countryside because of the quality of its natural environment.
Visitors to the area can most easily access the Tramroad at Talybont village, although access is also possible at other points, including Trefil village and Talybont Reservoir dam.
In Talybont, you can visit the Tramroad's canal wharf, where there is an information board and replica tram opposite the fine limekilns. The tramroad leaves the canal behind the White Hart Inn public house and is signposted. You can read further information about the Tramroad on the Web, including a downloadable guide.
The Brinore Tramroad Conservation Forum – a voluntary body – was formed in 1999 to safeguard the Tramroad's long-term future.
This document has been taken from the Brinore Tramroad Conservation Forum's Web site at
http://brinore-tramroad.powys.org.uk .
Site designed and built for the Forum by Syntactic - accessible Web design and publishing, and hosted by Powys County Council