Brinore Tramroad Conservation Forum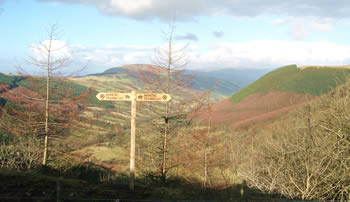 The Brinore Tramroad Conservation Forum, having completed its work, has now been closed.
The Forum was set up in 1999 as a not-for-profit organisation with membership representation from Talybont and Llangynidr Community Councils, Tredegar Town Council, Llangynidr Historical Society, Forest Enterprise, the Brecon Beacons National Park Authority and individuals. The aim of the Forum was to secure the long-term conservation of the Tramroad. It commissioned a management plan from industrial archæological consultants. The plan addressed the Tramroad's then-current condition, access issues, biodiversity, landscape issues, cultural and tourism potential, and pressures from forestry management.
With help from its partner organisations, the Forum signposted and waymarked most of the Tramroad's length – watch out for the distinctive "tramwheel" logo. Work also involved clearing the Tramroad of encroaching vegetation; installing access gates; and providing interpretive and educational information. :::
This document has been taken from the Brinore Tramroad Conservation Forum's Web site at
http://brinore-tramroad.powys.org.uk .