What to see on the Brinore
Access rights

The Tramroad has the legal status of a bridleway (Public Right of Way). This means that it can be used for walking and horse-riding and by bicycles. It is illegal for the public to use any kind of motor vehicle on it. Unfortunately, it is sometimes used by motorcycles (trail bikes). This illegal use disturbs farm stock and wildlife; intrudes on the quiet enjoyment by legitimate users; and causes damage to the track bed.
Please use the Tramroad thoughtfully and with consideration for others and report illegal use to the police.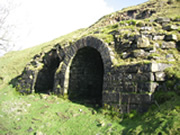 What to see
A downloadable guide to the Tramroad is available, containing details of several suggested routes. See Further Information.
The boundaries of the trackbed were marked by hawthorn hedges, except at the head of Dyffryn Crawnon where a fence or wall marked the boundary. There is still much evidence of the hedge, showing signs of when it was last laid over 100 years ago. The cast-iron tramplates ("rails") were fixed to cast-iron tie bars which simply rested on stone sleeper blocks. There are fine stretches of sleeper blocks still to be seen, from which the gauge of the Tramroad (3ft 6in; about 1.06 m) and length of the tramplates (47 in, about 1.19 m) can be deduced. The Tramroad was single-track, with 13 passing places, only some of which can be presently located. The tramplates were spiked into the sleeper blocks only at the passing places: these sleeper blocks show the hole drilled to take the spike.
There are several ruined buildings associated with the Tramroad. There are limekilns at Talybont and near Trefil. In Talybont, you can visit the Tramroad's canal wharf, where there is an information board and replica tram opposite the fine limekilns (although the kilns themselves are on private land). At the pass at Penrhiwcalch was a building, the Rock Inn, now a ruin. The Tramroad tunnel at Penrhiwcalch was largely demolished in 1958 and most traces finally removed in 1997. As a result of forestry track being built in 1997, there remains only faint evidence of the sidings at Penrhiwcalch.
More than 300 species of plants have been identified, including some which are uncommon in Wales and indeed in the UK as a whole. As you walk the Tramroad from Talybont, you will see flora which are typical of shaded hedgerow or woodland habitats. In a few places, the flora are characteristic of damp or boggy ground, including alder and soft rush. The ground flora are restricted in the denser areas of conifer plantation. At the head of Dyffryn Crawnon are species more suited to a shaded cliff habitat, in which the influence of limestone becomes more noticeable towards Trefil. Ferns and mosses are abundant. Near Trefil, flora associated with peat moorland can be found, including heather and purple moor-grass. :::
This document has been taken from the Brinore Tramroad Conservation Forum's Web site at
http://brinore-tramroad.powys.org.uk .