The origins of the Tramroad
Construction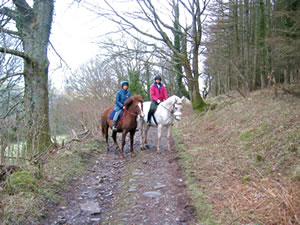 The Brinore Tramroad was built in 1814-1815 under the "eight-mile clause" of the Brecknock and Abergavenny Canal Act of 1793. The clause allowed the B&A Company to construct tramroads to workings within this distance or owners of such workings to obtain wayleaves to do so. The 8-mile post, no longer to be found, would have been in Trefil, measured from the Tramroad's canal wharf at Talybont.
Since the Company declined to build it, the Tramroad was built by public subscription at a cost of £12 800 and opened in 1815. An extension to serve the Rhymney Iron Works and the Bryn Oer collieries in the Rhymney Valley was built privately by Benjamin Hall, who was of the chief sponsors of the Brinore Tramroad proper.
Engineering
The Engineer of the Tramroad was George Overton. The trackbed is 9 feet (2.7 m) wide and the boundaries are marked by hawthorn hedges, except at the head of Dyffryn Crawnon where a fence or wall marked the boundary. The operating lease of the Tramroad required that the hedge was kept in repair, along with the drainage ditches on either side. The cast-iron tramplates ("rails") were fixed to cast-iron tie bars which simply rested on stone sleeper blocks. The gauge of the Tramroad was 3ft 6in (about 1.06 m) and length of the tramplates was 47 in (about 1.19 m). The Tramroad was single-track, with 13 passing places. The tramplates were spiked into the sleeper blocks only at the passing places: these sleeper blocks show the hole drilled to take the spike.
Use and decline
The Tramroad carried a variety of materials, primarily coal from the Rhymney Valley into mid-Wales, and limestone from the southern quarries for agricultural improvement.
The tramroad remained in use until around 1860-1870, when it fell into disuse following a decline in traffic. The Brinore Tramroad Company was formed through an Act of Parliament but there is no evidence that it was legally dissolved. The legal ownership of the Tramroad is therefore unclear, although public access, through its bridleway status, is not in doubt. :::
This document has been taken from the Brinore Tramroad Conservation Forum's Web site at
http://brinore-tramroad.powys.org.uk .